They say marriages are made in heaven. But for some, their profession leads the way to the hearts of their soul mates. For the Kapoors, the first family of Hindi Cinema, films have always played a pivotal role in bringing two hearts together. Shammi Kapoor, his younger sibling Shashi, his nephews Randhir and Rishi have all exchanged martial vows with ladies whom they had been seen romancing on screen. And proud daughter Kareena of the Kapoor Khandaan, too, chose to settle down with her co-star of many films, Saif Ali Khan.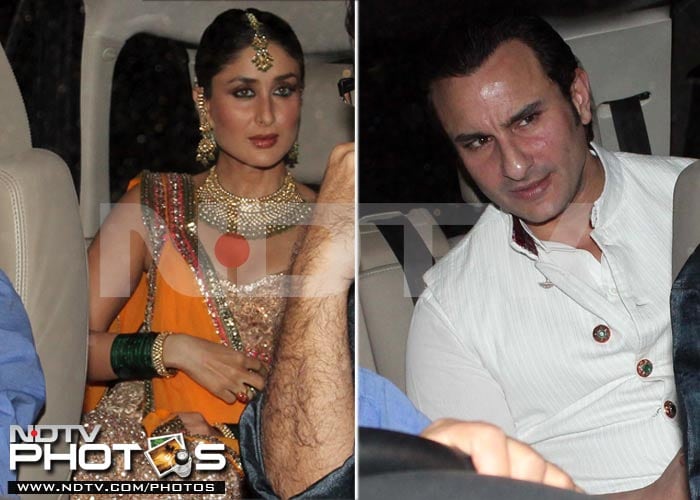 Interestingly, Saif also hails from a very influential family – his father Mansur Ali Khan was the Nawab of Pataudi and his mother, actress Sharmila, traces her lineage to the family of Nobel Laureate Rabindranath Tagore.
Marriage isn't an easy commitment to keep and more so when two celebrities choose to enter into matrimony together. It takes two to tango and hence the two involved in the alliance must ensure that they put in sincere efforts to make the marriage work. Saif and Kareena hail from families that are known for their family values. Their respective families have stood together through thick and thin and have always been a cohesive unit. And Saif Ali Khan and Kareena Kapoor, whom people collectively address as Saifeena, are all set to take the legacy further.
Here's taking a look at how members of these two popular families decided to take the marital plunge with their respective spouses:
Shammi Kapoor-Geeta Bali
Shammi Kapoor met Geeta Bali in 1955 while shooting for 'Rangeen Raaten'. Geeta was an established star back then while Shammi had just begun his career as an actor. The duo fell in love within four months of knowing each other. Since Geeta was a year older to Shammi and had worked with Raj Kapoor and his father Prithviraj, she was quite apprehensive about her relationship with him. But love had other plans for her. She exchanged marital vows with Shammi in an impromptu marriage. The couple was very much in love and their marriage a success, and ended with Geeta's death due to small pox.



Shashi Kapoor-Jennifer Kendel
Shashi Kapoor and British actress Jennifer Kendel first met in Calcutta while they were preparing for their respective theatre shows and subsequently fell in love. Their families had opposed to their marriage but Shashi saw support in his sister-in-law Geeta Bali. The duo tied the knot in 1958. Shashi and Jennifer were madly in love. It was Jennifer's death in 1984 that put an end to their marriage. Jennifer succumbed to cancer and post her death, Shashi went into depression.



Randhir Kapoor-Babita
Randhir and Babita made a perfect on-screen couple in 'Kal Aaj Aur Kal' and decided to culminate their blossoming relationship into marriage. Babita had agreed to quit working in films post marriage, as she had to abide by the customs of the Kapoor
Khandaan
. Their marriage hit the rocks and the couple decided to part ways. Though Randhir and Babita chose not to end their relationship legally, they led separate lives under different roofs.
Rishi Kapoor-Neetu Singh
The cute couple of the 1970s, Rishi Kapoor-Neetu Singh were undoubtedly made for each other. Rishi and Neetu fell in love and wanted to marry each other. But their respective families had objected to their marital union. Rishi was so determined to marry Neetu that he is reported to have visited her house to ask for her hand while he was running high fever. On seeing their undying love for each other, their families decided to give them a green signal.

Karisma Kapoor-Sanjay Kapoor
After ending her engagement with Abhisek Bachchan, Karisma surprised one and all by marrying industrialist Sanjay Kapur. Sanjay and Karisma's marriage has been under speculation for long and reports were rife that their paradise was in trouble. Time and again the actress denied having differences with her husband. Though Karisma has categorically denied rumours of the trouble in her marriage to Sanjay, the duo has been seen together at various socials dos.
Sharmila Tagore- Mansur Ali Khan
Sharmila, the actress and Mansur, the sportsperson, fell in love and soon decided to get hitched. Sharmila, the great grand niece of Nobel Laureate Rabindranath Tagore embraced Islam before marrying Mansur, the Nawab of Pataudi. Their marriage was a successful one. Despite losing her husband in 2011, Sharmila decided to keep the Pataudi tradition alive and got her son crowned as the new Nawab of Pataudi. And is now all set to get him married to his ladylove Kareena Kapoor.